Plantation "Perfect Green" is actively involved in the local community life, supporting especially children and youth. The idea of corporate social responsibility is particularly close to us, so we join the charity of a different range - not only during the Christmas season.
LKS "GRAF" from Bukówko
Since 2012 we sponsor Country Sports Club "Graf" from Bukówko. The club operates in two small villages, former collective farms, Bukówko and Słonino located in the neighbourhood of our plantation. In four football teams there are 89 players, including 24 seniors, 25 older juniors, 24 juniors and 16 beginners. Our support enabled the  Club to engage a coach for the youngest players. We are pleased that our aid effectively helps in achieving sporting passion. Especially that the players' enthusiasm, a huge popularity of the team among the residents (30% of the rural population of 370 people often comes to matches) and work of socially dedicated Club Board President Mrs. Anna Chmielewska let "Graf" successfully compete with clubs from much larger and richer towns.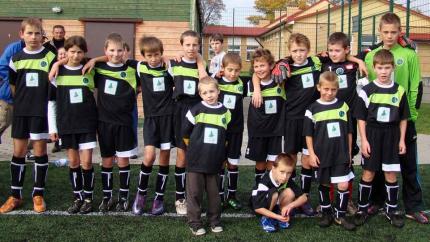 Welfare and educational institutions 
In 2014 years about 30 Christmas trees went to Pope John Paul's  II Gymnasium in Tychowo. Income from the sale of firs boosted Student Council fund. Other trees delighted students of Gymnasium in Dobrowo throughout the holiday season. Over a dozen Christmas trees were sent to the orphanage "Under the Spruce" in Białogard, and 5 firs pleased celebrating Christmas by children from the Warsaw kindergarten Water Color Marina.
Have you got any  idea how else we can help?
If yes  – we are waiting for your contact HERE .