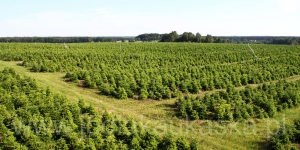 Wonderful weather conditions like mild winter and a fairly late spring and a very intense treatments will bring to us that this year our Christmas trees will be even prettier than in previous years. Treatments of forming and spring fertilization have ended in April. We are finishing the last set of treatments now working on a slow and stable growth of the trees' tops.
For 2015 sales we have decided to keep a permanent division in four of our quality classes. This helps considerably more precise than in 2- and 3-class offers, matching the needs of a particular customer. We are delighted that accordingly to the opinion of our customers from the last season, our customers received exactly what expected.
We are happy to announce that for the current season we will have in our offer a lot of new products: the new sizes for fir and blue spruce in pots. We kindly invite all customers to visit our plantation. The best time will be between 10-th and 15-th August.